Story of Serenity
Serenity was built in 1941 by the Electric Launch Company (Elco) in their shipyard located on Newark Bay in Bayonne, New Jersey . We understand that only 7 were built, but we do not know the whereabouts of any other 57 foot Elco at this time. The photo below is from a copy of one of the original brochures of a 57 foot Elco, which came from the archives to the Mariners Museum Library in Newport News, Virginia.
The following list shows the various names by which Serenity has been known, as well as her history of ownership according to the registration of merchant vessels of the United States and the Department of Commerce.
| | | | |
| --- | --- | --- | --- |
| Date | Name of Yacht | Name of Owner | Home Port |
| January 1, 1942 | Carol Anne | H Foster Reynolds | Providence, Rhode Island |
| April 13, 1942 | | U.S.A War Shipping Administration | |
| April 12, 1945 | | A. I. Armory, O.T. Armory & C. P. Armory | |
| March 15, 1945 | Harzel | Harry W. Hancock | Detroit, Michigan |
| October 6, 1947 | Mahantongo | Frank D. Yuengling | Philadelphia,, Pa. |
| November 3, 1952 | Broadview | Martin Vogel, Jr. | Washington D.C. |
| June 5, 1957 | Broad iew | Thomas H. Daly | Washington D.C. |
| November 19, 1957 | Sabbatical | Jupiter Inlet Beach Colony. Inc. (Fla.) | West Palm Beach, Fla. |
| March 5, 1959 | Sabbatical | Hurst Waterman Conart | West Palm Beach, Fla. |
| March 25, 1968 | Sabbatical | Captain A. B. Hargrave | West Palm Beach, Fla. |
| April 25, 1968 | Alva | Chester L. Hawley | West Palm Beach. Fla. |
| September 26, 1970 | Samaran | Arthur R. Taylor | New York, N.Y. |
| October 2, 1971 | Serenity | Robert P. Richards | Philadelphia, Pa. |
| June 30, 1994 | Serenity | Gail Baumgart (daughter fo Robert Richards) | Cleveland, Ohio |
| August, 1998 | Serenity | Jim & Nelda Blair | Clear Lake, Texas |
Not much information is available on Serenity prior to being purchased by Robert P. Richards in the early 1970's . There is speculation that the boat was used for patrolling the East Coast during World War II. You will notice that she was deeded to the USA during the war. She was built in 1941, just before the bombing of Pearl Harbor. After World War II began, no other luxury yachts were built by Elco, only PT boats (approximately 399) for the war. We have found 2 of the other 6 sister ships. They are Encore and Gemini which there are pictures below. If anyone has any information on any of the other sisters, please let us know.

According to old records from Ed and Gail Baumgart, Gail's father, Robert P. Richards, bought the boat in the late 60's or the early 1970's. Richards did a complete overhaul on her beginning in 1972 at the Galena Boat Yard on the Sassafras River at Gregg Neck, Maryland and renamed her "Serenity". The crew quarters were removed and a new galley was installed which was constructed completely of cherry wood from a tree growing on the property at the Galena Boat Yard. The upper deck top was extended to the back and the dingy was removed. New oak floors were installed in the salon over the engines. The Captain's quarters were redone, with the door to the back deck being moved to one side and a queen size bed installed. The instrument panel was also redone. All the renovations were in mahogany, except for the cherry wood galley and the oak floors. Richards died in 1981 and for 22 years the boat stayed in the Galena Boat Yard with only enough repairs to keep her afloat. Gail (Robert Richards daughter) and Ed Baumgart kept the old Elco's bills paid until Ed restored her again in 1993 in order to bring her back to Chicago where they still live. The trip was from Gregg Neck through the C&D Canal, around Cape May, up the New Jersey shore past New York, up the Hudson River to Albany, then through the Erie Canal to Lake Ontario, Lake Eric, Lake Huron and finally Lake Michigan to Chicago.

Every winter in Chicago, Serenity was dry-docked and needed repairs made by Ed Baumgart to get the boat ready for late spring and summer use on Lake Michigan.
On July 7, 1998, Jim & Nel Blair of The Woodlands, Texas (located North of Houston) took possession of Serenity. Jim flew to Chicago where Serenity was docked on Lake Michigan. Ed Baumgart and his brother Rich accompanied Jim down the Illinois River to her final berthing place, the Lakewood Yacht Club in Clear Lake, Texas, adjacent to Galveston Bay. Serenity's journey was roughly 1800 miles from Lake Michigan to Galveston Bay at a speed of approximately 9 MPH. The trip was down the Illinois River to the Mississippi. Then back up the Ohio River and then down the Tom Bigby Waterway to Mobile, Alabama. Ed brought some friends with him. Some boarded and debarked Serenity at St. Louis, Missouri. Several friends of Jim Blair boarded at Mobile, some got off at New Orleans, and then Serenity had to set in for repairs at The Diamond B Ship Yard in New Iberia, Louisiana to repair a bent prop. There, Serenity was well taken care of by Big Bobby and Little Bobby Bodin, owners of the Diamond B. Other friends then joined for the rest of the journey to Galveston Bay. Some say the trip took 2 months. Some say it was less. Some say it took 38 cases of beer and a few good cigars to make the trip. Others do not know, but good times were had by all. At times, there were at least 10 shipmates aboard to help guide Serenity through the treacherous waters of the Intercoastal Canal. Serenity finally docked at Lakewood Yacht Club late in August, 1998, where she is docked today.
ENCORE
The location of Encore is presently unknown but we understand she is for sale.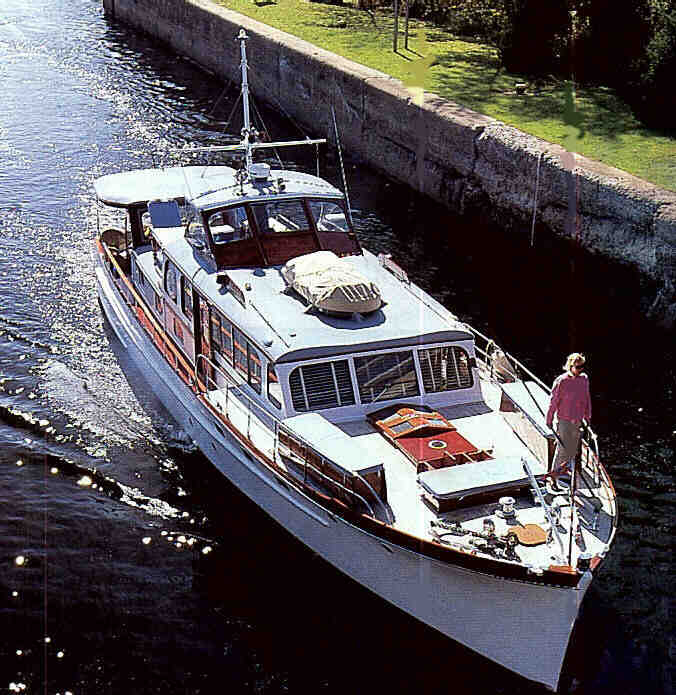 Encore
Gemini
D. R. Fuller bought Gemini in the 1970's. She was once owned by the Duke of Windsor. She was in great shape. Mr. Fuller sent us these fine pictures of a great boat.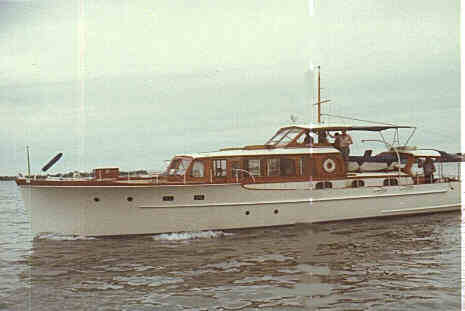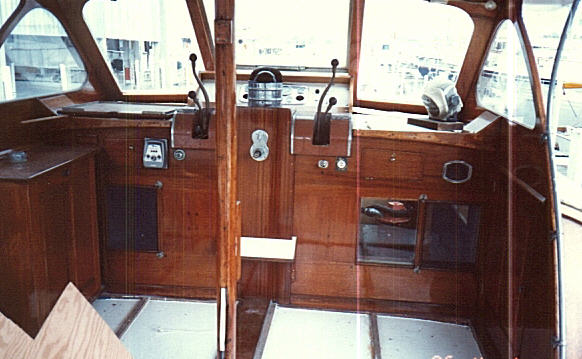 Gemini
Contact Jim Blair ©1999 2000 All Materials Property of Elco & Jim Blair
Site design ©2000 DeGrootWeb